Recognized by patients and colleagues alike, Dr. John T. Eli is a Board-Certified and highly regarded orthodontist. His practice prides itself in excellence in technical acumen, patient rapport, and orthodontic treatment for adults, adolescents, and children.
Native of Southern California, Dr. Eli was born and raised in Whittier. The commitment to make a meaningful difference to the lives of others was instilled at an early age by his father, Dr. Don T. Eli. After graduating from Whittier Christian High School and following family tradition, he attended the University of South Dakota where he received a Bachelor of Science and a Master of Natural Science degree in Biology.
Recognizing that oral health and attractive smiles contribute to positive self-esteem, self-confidence, and self-image, Dr. Eli chose the field of dentistry as a means toward improving people's lives. His decision led him to Nova Southeastern University-College of Dental Medicine in Ft. Lauderdale, Florida where he received a Doctorate of Dental Medicine. After graduating with honors and being inducted to Omicron Kappa Upsilon, the national dental honor society, he attended the Center for Advanced Dental Education at Saint Louis University where he received specialty training in orthodontics. After completing his orthodontic residency and with his Master of Science in Dentistry degree, Dr. Eli returned home to Southern California to raise his family and build his practice in Lake Forest in 2007.
Eli Orthodontics is the unique vision of Dr. Eli, a family-centered practice where your health and well-being is priority. Every team member is relationship driven to care for all patients. Dr. Eli believes that one of his greatest professional accomplishments is his selection and coaching of a successful, dynamic team and that it is the dedication of his staff that allows him to be his best.
Professional Associations and Memberships: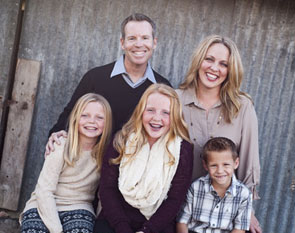 Dr. Eli and his wife Jennifer (whom he met at dental school) reside in Mission Viejo where they have three children, Katherine, Emily, and Blake and their Golden Retriever. Jennifer is a general dentist and practices in Lake Forest at Eli Family Dentistry. Outside of the office, Dr. Eli enjoys snow skiing, water skiing, hiking, mountain biking, and anything and everything about cars. Most importantly, his absolute favorite pastime is spending time with his family.